Visiting our museum
Opening Hours:
Monday – Closed
Tuesday – 10:00 – 16:30
Wednesday – 10:00 – 16:30
Thursday – 10:00 – 16:30
Friday – 10:00 – 16:30
Saturday – 10:00 – 16:30
Sunday – Closed
Upcoming Events
11 June 2022, 19:30 – Baroque masterworks for viola da gamba and harpsichord
Ibi Aziz, a specialist in the performance of Baroque, Renaissance and Contemporary music for viola da gamba, is joined by well-known Edinburgh musician John Kitchen on harpsichord and Lucia Capellaro on viola da gamba continuo. Together they will perform a varied programme including works by Couperin, J.S. Bach and Marin Marais. Ticket via Eventbrite.
19 June 2022, 19:30 – Baroque violin and harpsichord concert
Rachel Podger, "the unsurpassed British glory of the baroque violin" (The Times), has established herself as a leading interpreter of the Baroque and Classical music periods. She is joined by Marcin Swiatkiewicz, one of the most recognisable harpsichordists of the young generation, in a programme of works by C.P.E. Bach. J.S. Bach, Benda, Graun and Gottlieb. Tickets via Eventbrite.
25 June 2022, 1930 – I Pifferi del Doge – Music in Venice between the Middle Ages and Renaissance
Ian Harrison and Hanna Geisel – shawms and bagpipes
David Yacus and Miguel Tantos Sevilliano – slide trumpets, sackbuts
I Pifferi del Doge – Music in Venice between the Middle Ages and Renaissance. Works by Dunstable, Binchois, Obrecht, Busnois and others played on shawms, slide trumpets, sackbuts, historical bagpipes and percussion. Tickets via Eventbrite.
2 July 2022, 1930 – Ensemble Odyssee
Anna Stegmann (recorder), Eva Saladin (violin), Agnieszka Oszanca (cello) and Andrea Friggi (harpsichord) perform Baroque chamber music.
With Proper Graces – Corelli's Opus 5 as a source of inspiration. Sonatas and Trios by A. Corelli, Handel, Barsanti, Veracini and Albicastro. Tickets via Eventbrite.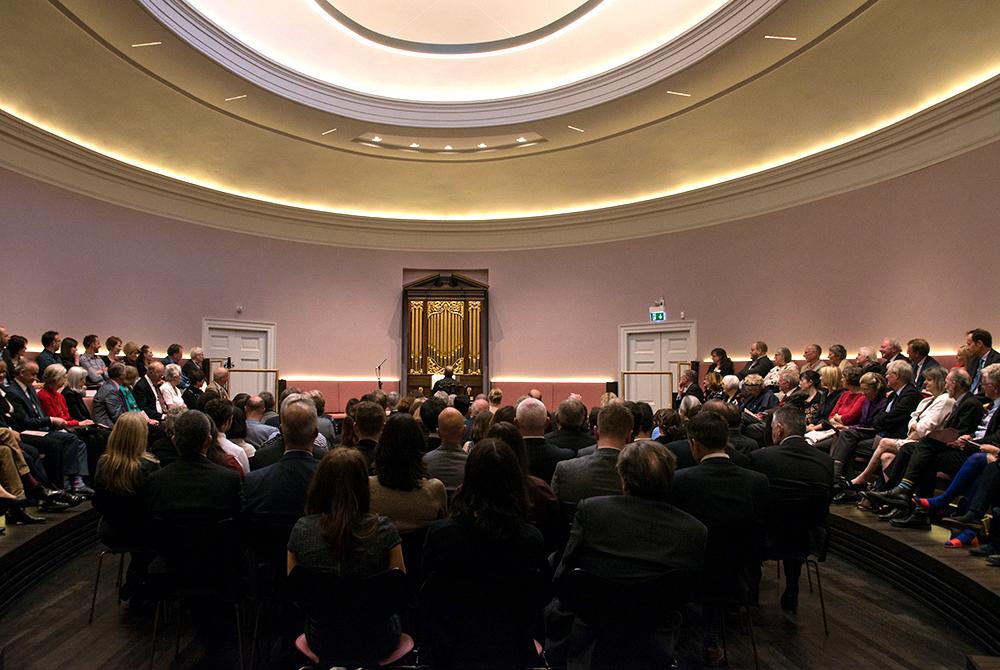 Family Programme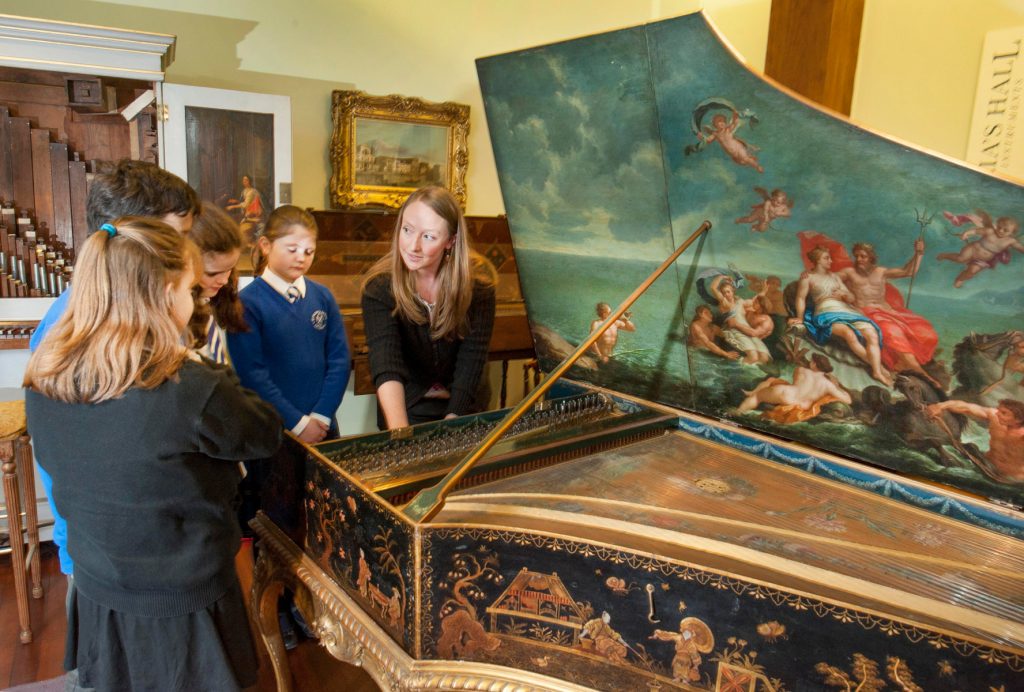 Families and children of all ages are always welcome at St Cecilia's Hall. Come and have fun together while learning about the history of musical instruments.
Our children's tour can help introduce the instruments to young children while our hands-on interactive 'discover drawers' allow visitors both young and old the opportunity to uncover how instruments work.
Children can explore the museum with our Discovery Trail – ask for it at the front desk when you arrive!.
We run a wide range of practical, hands-on workshops, led by musical instrument specialists throughout the year. Look at the Upcoming Events section below to see when the next activity is taking place or contact SCHevents@ed.ac.uk for more information.
In addition, tours or other activities can be arranged to cater for special interests and a varied needs. Please contact SCHgroupvisits@ed.ac.uk for more information.
Venue Hire
St Cecilia's Hall, located off the iconic Royal Mile in Edinburgh's Old Town provides contemporary facilities and comfort, within the stunning 1763 heritage building, uniquely home to a world class collection of musical instruments.
We have two separate spaces available for hire to suit a range of events / activities and budgets:
The Sypert Concert Room (first floor) – max capacity 180 (this number includes all staffing/performers/speakers etc).
The Laigh Hall* (ground floor) – for receptions/refreshments max capacity 80.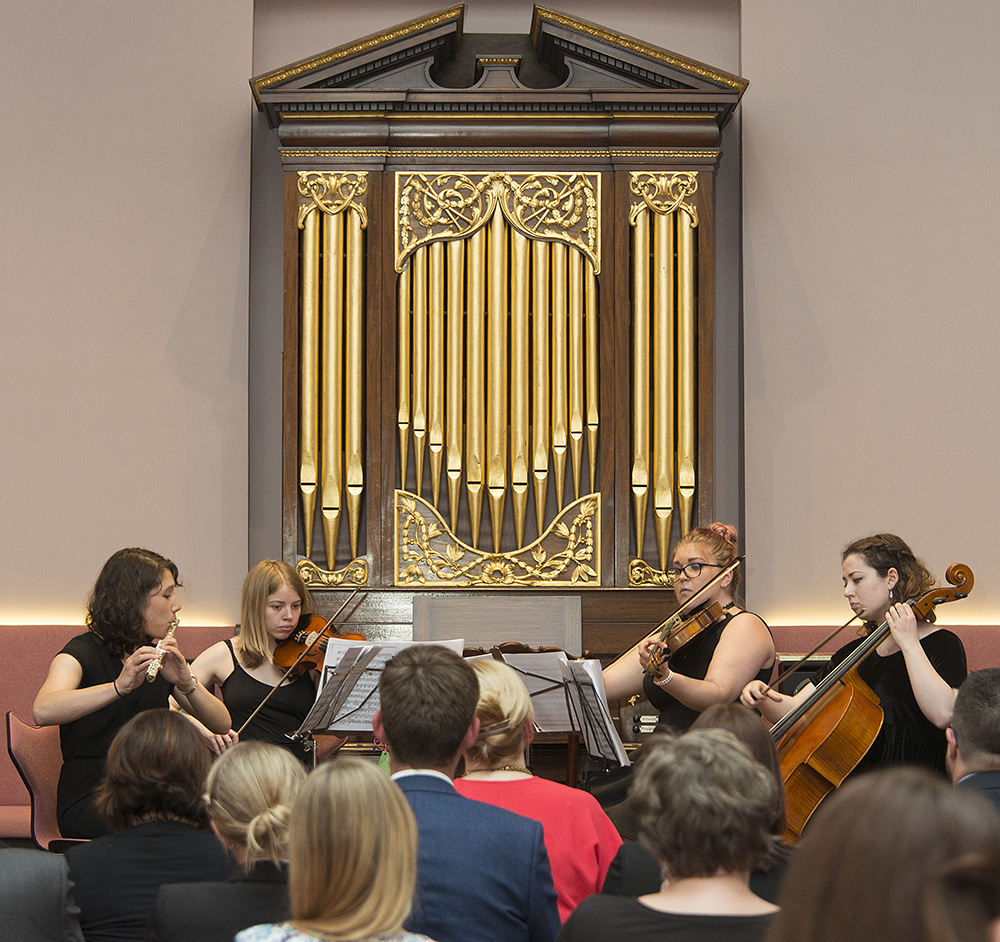 * Note that the Laigh Hall itself is divided in 2 by a glass wall creating 2 spaces, both these spaces comprise the Laigh Hall.
Please note absolutely no catering is permitted in the Sypert Concert Room however refreshments can be served in the ground floor Laigh Hall and Historic Foyer. Catering must be arranged separately by the client as St Cecilia's does not provide this service.
If you are planning a special event, small conference or need a meeting space, we would be delighted to discuss your requirements and organise a viewing of the venue.
If you would like to enquire about venue hire at St. Cecilia's full details and prices are available here or email us for more details: SCHEvents@ed.ac.uk