Visiting our museum
Opening Hours:
Monday – Closed
Tuesday – 10:00 – 16:30
Wednesday – 10:00 – 16:30
Thursday – 10:00 – 16:30
Friday – 10:00 – 16:30
Saturday – 10:00 – 16:30
Sunday – Closed
Edinburgh Fringe Events
Daily Highlight Tours of St Cecilia's Hall
Tuesday – Saturday 14:00-14:45
Join us on these free guided tours of the musical treasures on display at St Cecilia's Hall, Scotland's oldest concert hall and home to the University of Edinburgh's Musical Instrument Collection. Hear the sounds of the past, discover the weird and wonderful world of musical instruments and journey through the past 500 years of music history. Tours will be led by the curators and volunteers of St Cecilia's Hall. The themes will change daily, so feel free to register for more than one! Children are most welcome.
Edinburgh Fringe 2022 Concerts at St Cecilia's
8 August 15.00 -16.00 – Music from a Grand Tour
Presented by the Barsanti Ensemble and the University of Edinburgh Musical Instrument Collection, this concert highlights a manuscript collection of music in Edinburgh University Library that was collected by Charles Hope-Weir during his grand tour of Europe in the 1750s. The music, by lesser-known Italian composers, features baroque stringed instruments and natural horns. Performed on period instruments in St Cecilia's Georgian Concert Room. Book tickets here
10 August 13:00-14.00 & 15:00 -16.00 – Cesse Divine Beaute: French Airs and Their Fans
Extraordinary concert of French airs de cour and their baroque admirers – Lully, Lambert, Tessier, Purcell, Handel… Elspeth McVeigh's hauntingly pure voice transports you to the royal court of 17th-century France. Expertly and sensitively accompanied by Andrew Forbes on the original 1764 Yohann Adolph Hass harpsichord from the St Cecilia's Museum collection. Book tickets here
13 August 15.00-16.00 – Sounds of St Cecilia's – Spinning the Works
Lucia Capellaro, László Rózsa and David Gerrard, some of Scotland's most exciting period instrument players, explore the musical offerings of two of Germany's greatest baroque masters – Bach and Telemann – for recorder, viola da gamba, cello and harpsichord. Inspired by the title Essercizii musici, this programme plays with the idea of musical studies, exercises and reworkings. Book tickets here
17 August 15.00-16.00 – Sounds of St Cecilia's – Inspired Master of our Art
The accomplished and versatile team of McDonald and Kitchen are joined by gifted young violinist Lydia Kirschenbaum* to present an all Handel programme of virtuoso works featuring violin, oboe and recorder with both continuo and solo harpsichord. This concert will feature an historic instrument from the University collection and copies of woodwind instruments by Thomas Stainesby senior, the preeminent London maker during Handel's time there. Book tickets here
20 August 15.00-16.00 – Sounds of St Cecilia's – Shackleton Concert
In the 2022 Nicolas Shackleton concert supported by University of Edinburgh, Calum Robertson, Sally Carr and Juliette Philogene present an exciting programme of music for clarinet, soprano and piano using instruments from the Musical Instrument Collection. This will include Ralph Vaughan Williams' Three Vocalises, Arthur Bliss' Pastoral and works by Gordon Jacob and James MacMillan. Book tickets here
21 August, 15.00-16.00 – Edinburgh Renaissance Band's Viol Racket Show
The Edinburgh Renaissance Band returns in 2022 with a live performance of their ever-popular Viol Rackett Show, our best-loved programme of instrumental music from the Middle Ages to the Renaissance. The award-winning troupe of ten musicians show off a large range of period instruments, including shawms, cornetti, sackbuts, nakers, viols, fiddles, crumhorns, gemshorns, bells, bagpipes, racketts and a serpent, and are happy to chat with you about them. The show is fronted by Musical Director Murray Campbell, whose lively presentation provides a delightful show, suitable for all ages. Children are especially welcome. Book tickets here
21 August, 19.30-20.30 – Classical Pipe Music – Scotland's Hidden Treasure
In this concert you will hear a variety of piobaireachd, the classical music of the great Highland bagpipe, Scotland's national instrument. The musicians are all leading exponents of this wonderful music. The tunes will be played in continuous fashion giving a unique musical experience. Most piobaireachd are composed using pentatonic scales or variations thereof, so although the pipe has a limited number of notes, a wide variety of tonal mood is possible as you will hear at this concert. Book tickets here
Family Programme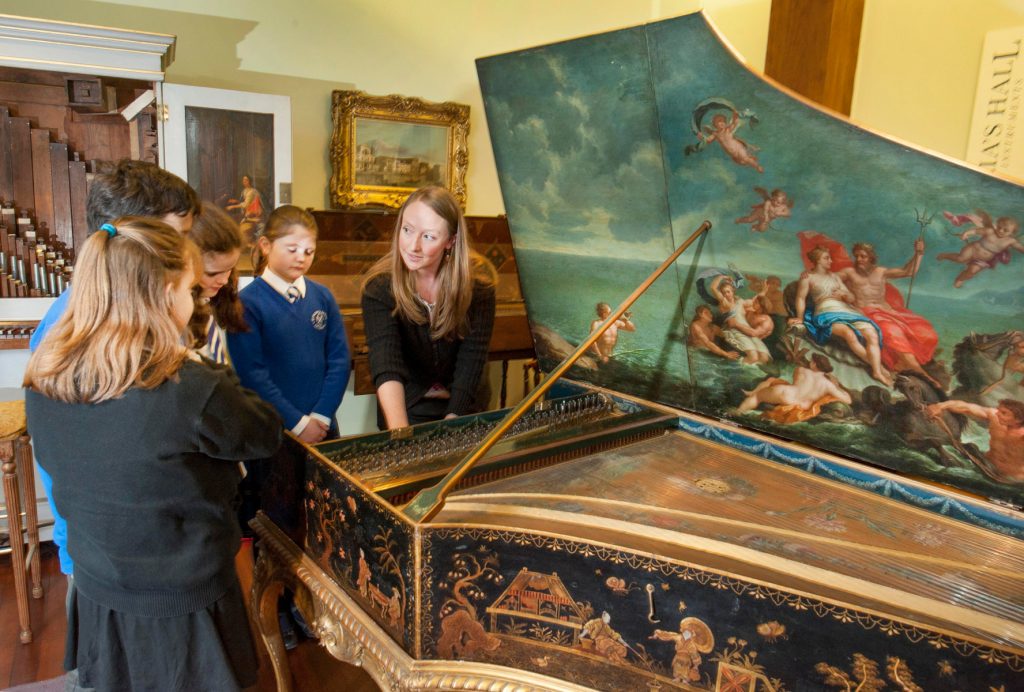 Families and children of all ages are always welcome at St Cecilia's Hall. Come and have fun together while learning about the history of musical instruments.
Our children's tour can help introduce the instruments to young children while our hands-on interactive 'discover drawers' allow visitors both young and old the opportunity to uncover how instruments work.
Children can explore the museum with our Discovery Trail – ask for it at the front desk when you arrive!.
We run a wide range of practical, hands-on workshops, led by musical instrument specialists throughout the year. Look at the Upcoming Events section below to see when the next activity is taking place or contact SCHevents@ed.ac.uk for more information.
In addition, tours or other activities can be arranged to cater for special interests and a varied needs. Please contact SCHgroupvisits@ed.ac.uk for more information.
Venue Hire
St Cecilia's Hall, located off the iconic Royal Mile in Edinburgh's Old Town provides contemporary facilities and comfort, within the stunning 1763 heritage building, uniquely home to a world class collection of musical instruments.
We have two separate spaces available for hire to suit a range of events / activities and budgets:
The Sypert Concert Room (first floor) – max capacity 180 (this number includes all staffing/performers/speakers etc).
The Laigh Hall* (ground floor) – for receptions/refreshments max capacity 80.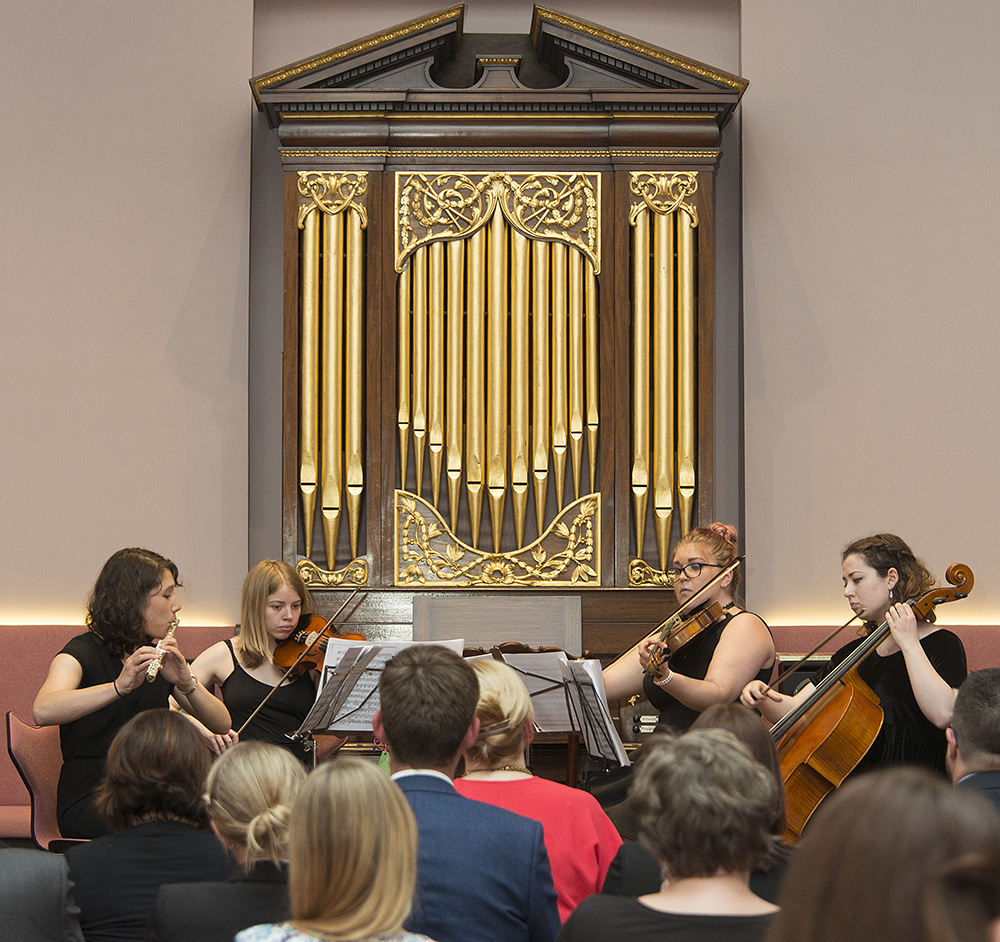 * Note that the Laigh Hall itself is divided in 2 by a glass wall creating 2 spaces, both these spaces comprise the Laigh Hall.
Please note absolutely no catering is permitted in the Sypert Concert Room however refreshments can be served in the ground floor Laigh Hall and Historic Foyer. Catering must be arranged separately by the client as St Cecilia's does not provide this service.
If you are planning a special event, small conference or need a meeting space, we would be delighted to discuss your requirements and organise a viewing of the venue.
If you would like to enquire about venue hire at St. Cecilia's full details and prices are available here or email us for more details: SCHEvents@ed.ac.uk