Visiting our museum
Opening Hours:
Monday – Closed
Tuesday – 10:00 – 16:30
Wednesday – 10:00 – 16:30
Thursday – 10:00 – 16:30
Friday – 10:00 – 16:30
Saturday – 10:00 – 16:30
Sunday – Closed
St Cecilia's Hall Lecture Series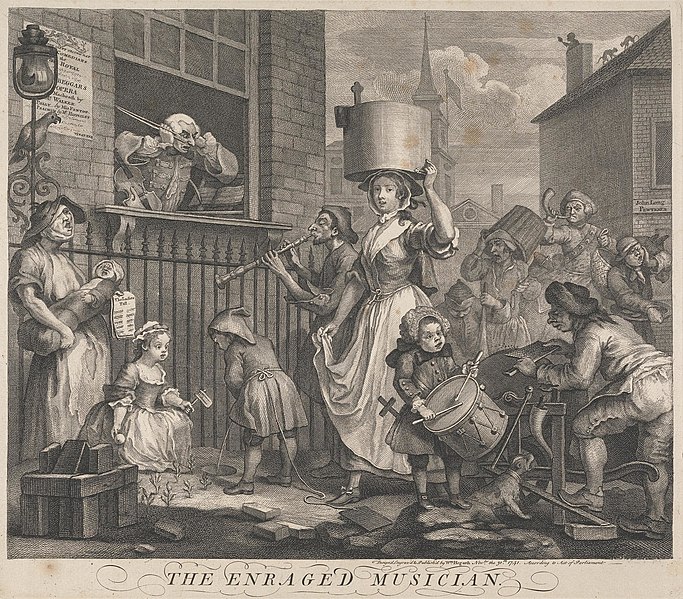 Fraud, Burglary and Sex: The Dark Side of Georgian Instrument Making
23rd August | 18:00-19:00 | Pay What You Can | Tickets coming soon
Care to dive into the dark side of Georgian London's instrument manufacturing? Take a tour through the centre of British instrument making as we delve into the city's workshops and unearth the dodgy deals and sordid affairs that occurred within. Get a sweeping view of musical instrument making in the capital as well as a fascinating window into everyday life in Georgian London as we discover shady practices that could end in death or deportation.
Audiences welcome to arrive from 17:40 onward.
Mature themes make this talk unsuitable for under 16s.
Sypert Summer Concert Series 2023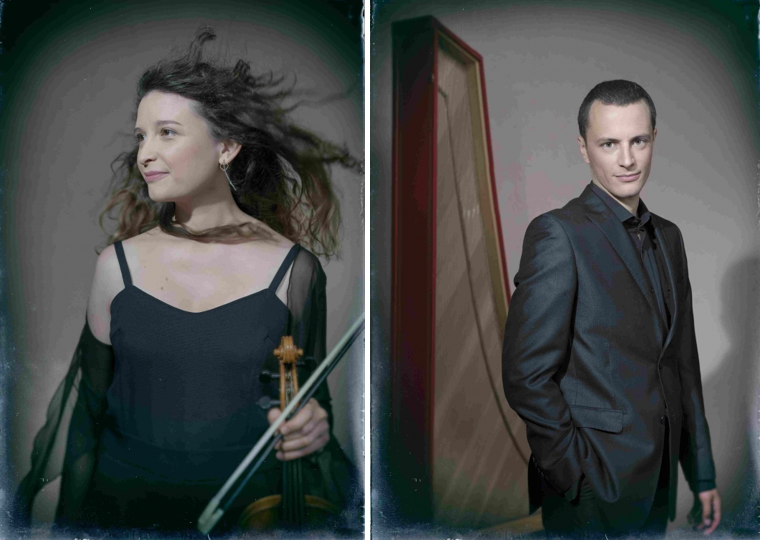 Ensemble Stravaganza | 4 June 2023 | 19:30 | £23 / £20 / £8 | Tickets available through Eventbrite
Domitille Gilon (violin), Thibault Naolly (violin), Maylis Moreau (viola da gamba) and Thomas Soltani (harpsichord) perform their 'Abendmusiken' programme of master works by North German composers such as Reinken, Buxtehude and Thiele.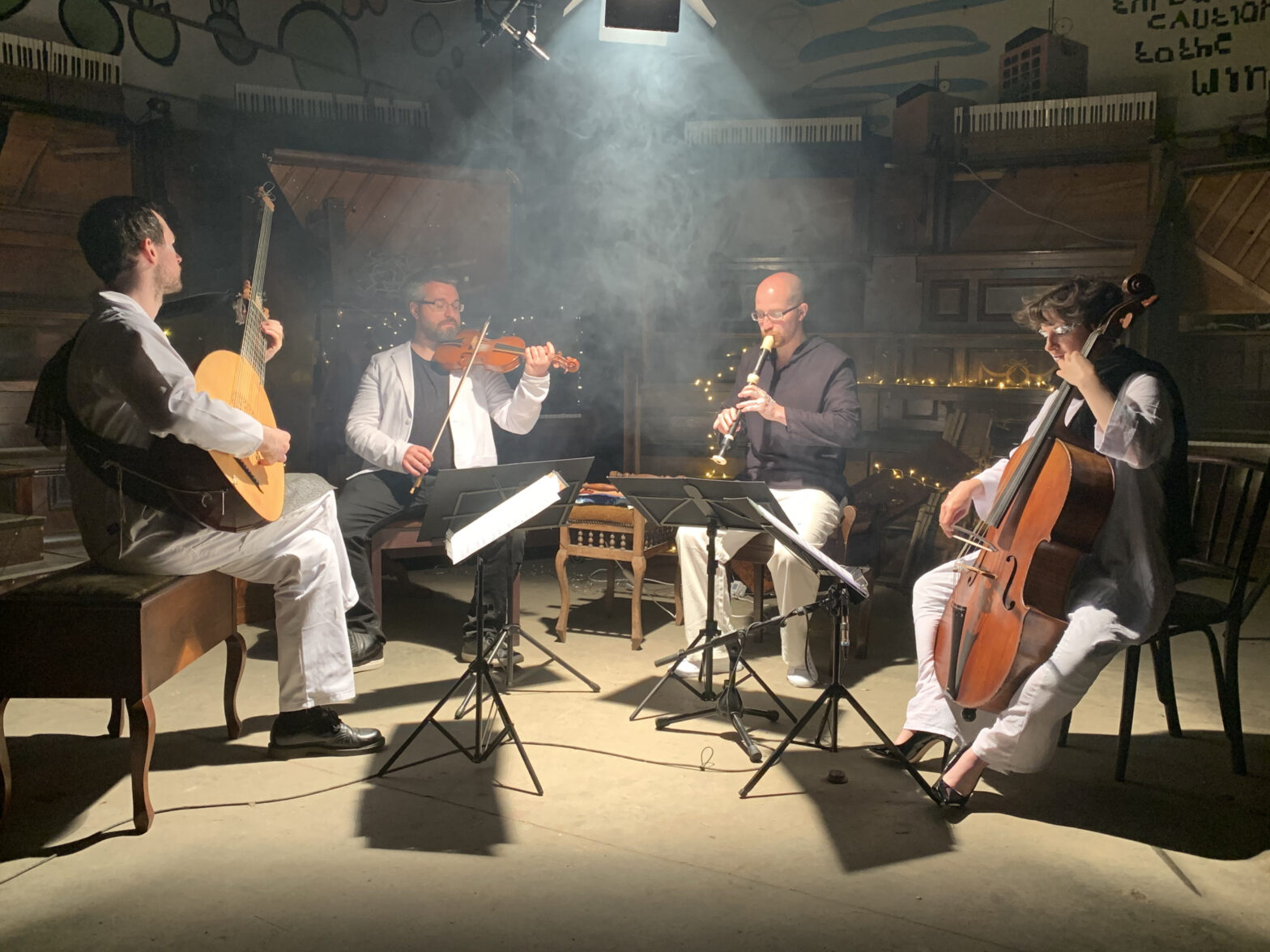 Scots Baroque | 11 June 2023 | 19:30 | £23 / £20 / £8 | Tickets available through Eventbrite
Laszlo Rozsa (recorders), Aaron McGregor (violin), Lucia Capellaro, (cello) and Alex McCartney (theorbo).
Their starting point is music of the baroque period, however the ensemble also experiment with a fusion of techniques and genres, including improvisation, folk styles and contemporary music written for old instruments.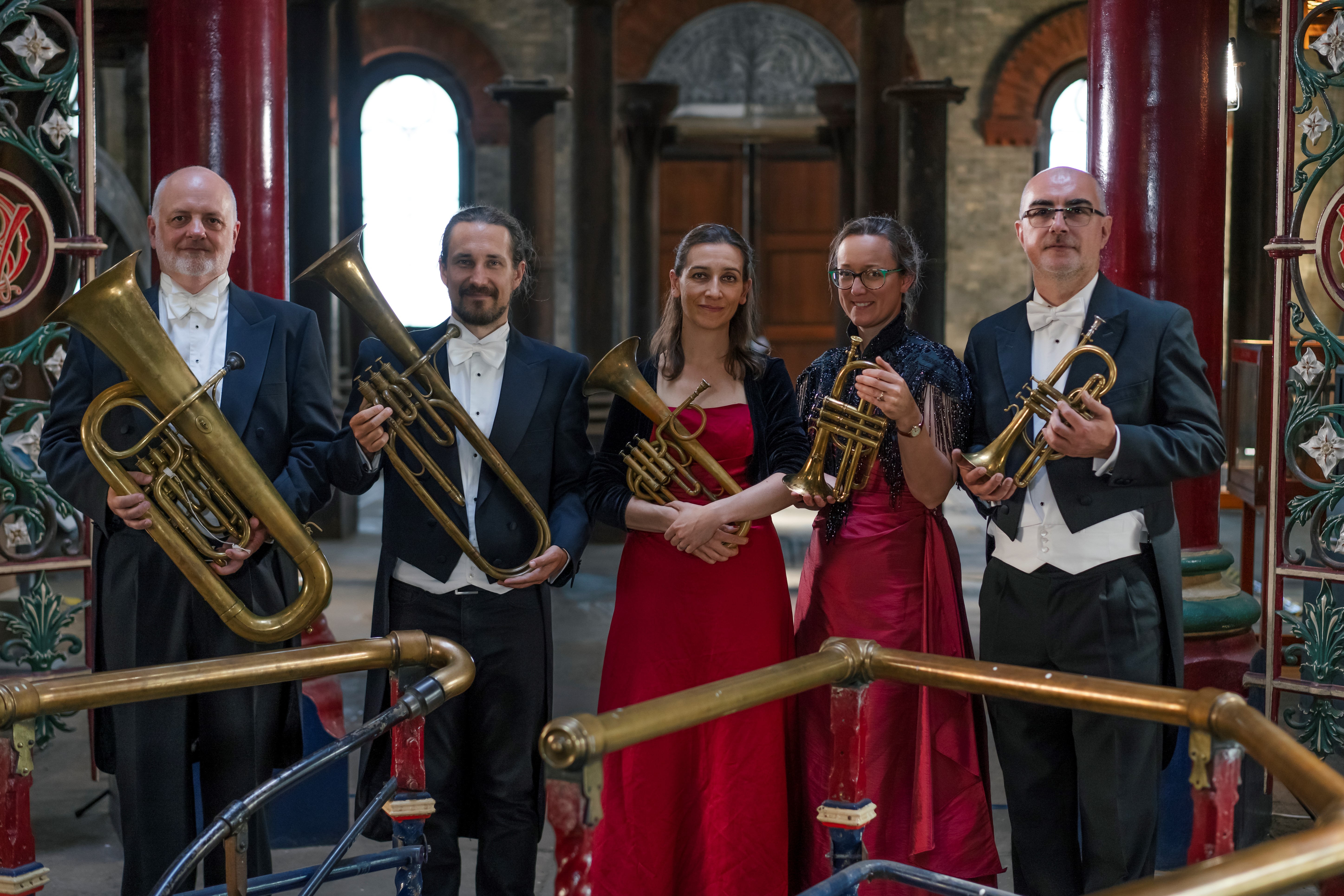 The Prince Regent's Band | 2 July 2023 | 19:30 | £23 / £20 / £8 | Tickets available through Eventbrite
Richard Thomas, Katie Hodges, Anneke Scott and Jeff Miller perform a programme of romantic chamber music for brass ensemble including works by Meyerbeer, Felix and Fanny Mendelssohn, Robert and Clara Schumann and others.
Tours at St Cecilia's Hall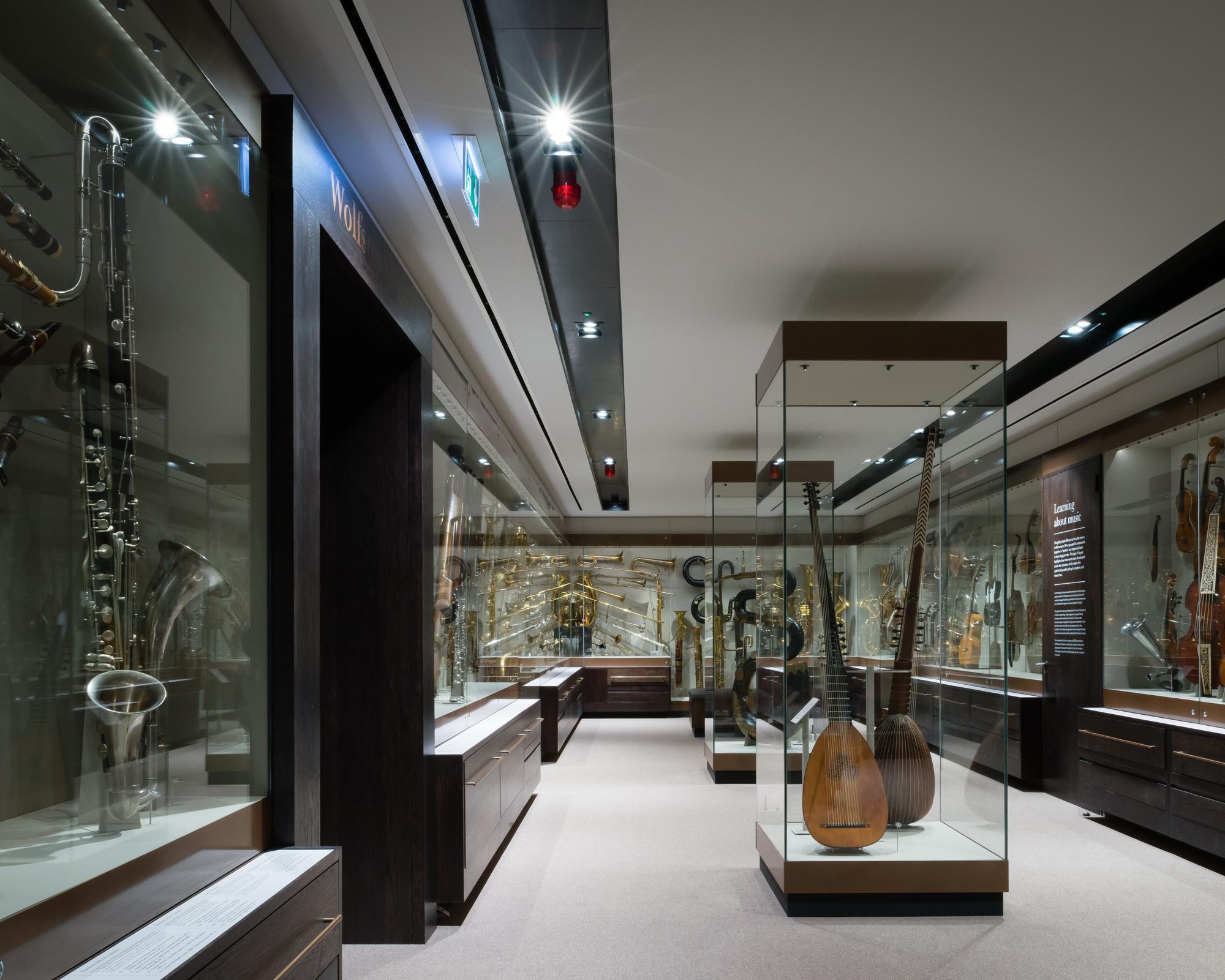 Tour of the Wolfson Gallery | 10 June 2023 | 14:00 | Free | Tickets available through Eventbrite
Join St Cecilia's Hall volunteer Jim Crooks on a guided tour of the Wolfson Gallery. Discover the wide variety of instruments played in the past and explore how music and musical instruments have changed over the centuries.
Edinburgh Fringe Festival Concerts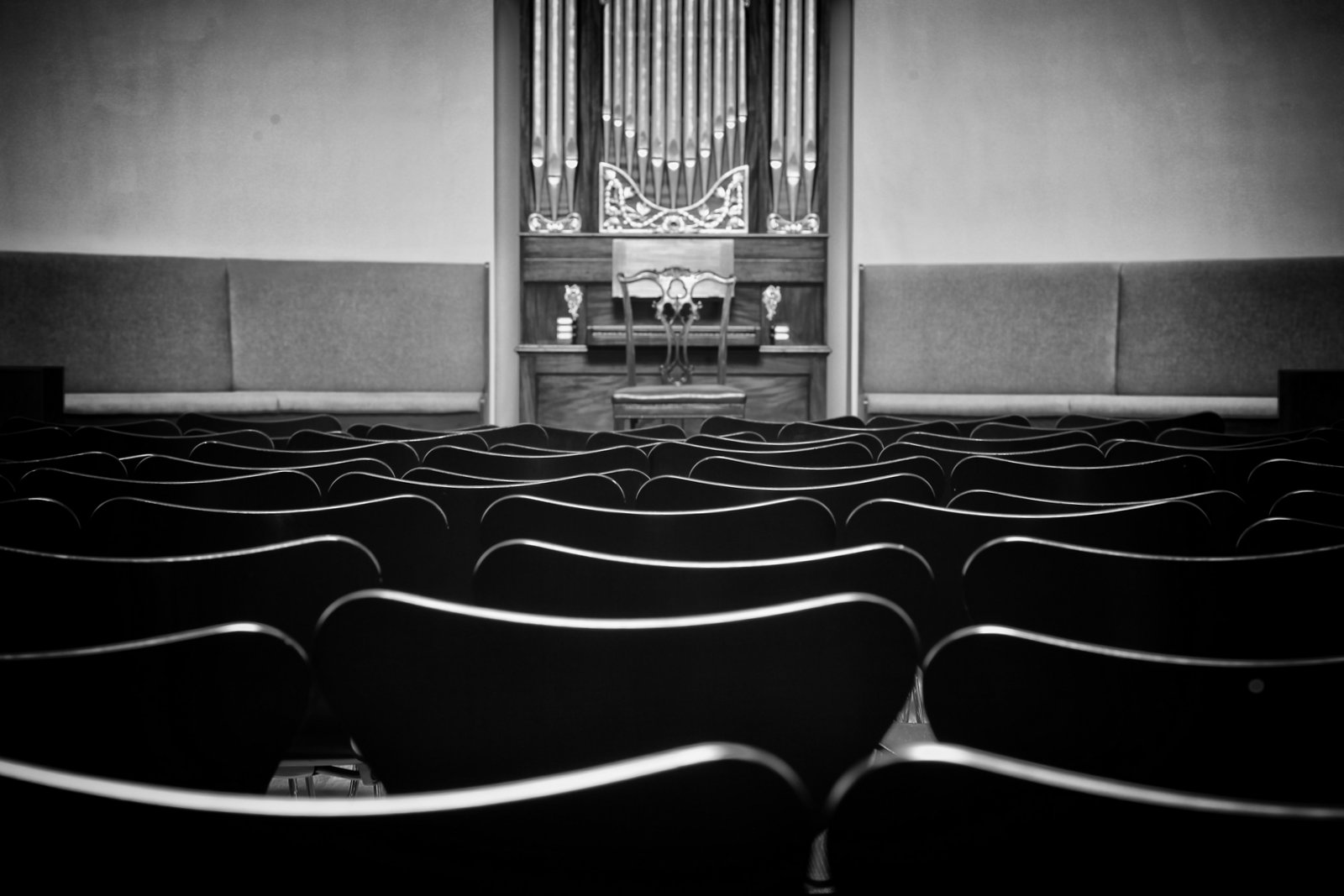 The Vauxhall Band Basset-Horn Trio | 4 August 2023 | 15:00 | £12 / £10 / £5 | Tickets available through Edinburgh Fringe
Come and revel in the earthy tones of this low member of the clarinet family. Used in wind bands by Mozart and his contemporaries, the basset horn featured at Vauxhall Pleasure Gardens when the Czech trio of Messrs Dworschak, David and Springer visited London in 1791. The Shackleton Memorial Concert is supported by the University of Edinburgh.
Piano Matinée: From Classical to Contemporary | 5 August 2023 | 11:00 | £12.50 / £9.50 / £5.50 | Tickets available through Edinburgh Fringe
The pianist and composer, winner of several national and international competitions, will play an exciting program including pieces by Beethoven and Rachmaninov, as well as her own compositions. As a special feature, Olga Riazantceva-Schwarz will play sonatas written by the Swiss composer Jean Paul Liardet, which she recently recorded. This concert is part of the album release tour. The double-CD album contains a total of six piano sonatas composed by JP Liardet between 1971 and 2020.
Classical Bagpipe Music – Scotland's Hidden Treasure | 6 August 2023 | 19:30 | £10 / £8 | Tickets available through Edinburgh Fringe
In this concert you will hear a variety of piobaireachd, the classical music of the great Highland bagpipe, Scotland's national instrument. The musicians are all leading exponents of this wonderful music. The tunes will be played in continuous fashion giving a unique musical experience. Most piobaireachd are composed using pentatonic scales or variations thereof, so although the pipe has a limited number of notes, a wide variety of tonal mood is possible as you will hear at this concert.
Sounds of St Cecilia's: Cantare Suonare | 9 August 2023 | 15:00 | £12 / £10 / £5 | Tickets available through Edinburgh Fringe
The critically acclaimed team of McDonald and Kitchen join forces with soprano Jess Rucinski for a journey through Arcadian Italy, featuring cantatas by Handel, Vivaldi and Mancini (Rome, Venice and Naples) with obbligato flute, oboe and recorder, a newly discovered sonata by Vivaldi and keyboard solos by Scarlatti, showcasing the 1728 Hitchcock spinet. 'Pure delight' (Scotsman), 'A deserved reputation' (Herald).
Attila the Stockbroker's Early Music Show | 11 & 18 August 2023 | 14:00 | Free | No ticket necessary
Renowned punk poet and multi-instrumentalist Attila the Stockbroker has loved early music ever since he grabbed a recorder aged about 8. He has taught himself to play a whole load of ancient instruments and in 2018 wrote and recorded an album Restoration Tragedy in which he combines early music and punk! In this entirely acoustic show he plays crumhorn, cornamuse, rauschpfeife and five different recorders and performs many of the pieces from the album, which is the story of the radical movements (Levellers, Diggers and Ranters) which emerged after the English Revolution of 1649.
Sounds of St Cecilia's: Capricci Armonici | 12 August 2023 | 15:00 | 312 / £10 / £5 | Tickets available through Edinburgh Fringe
Scottish early guitarist Gordon Ferries makes a welcome return to St Cecilia's with a beautiful programme featuring Baroque guitar suites by the 17th-century Italian composer Ludovico Roncalli, alongside Spanish dances by the great Spanish guitarist Gaspar Sanz. Gordon will be playing a five-course Baroque guitar by Martin Haycock, based on a 17th-century original by Matteo Sellas.
Sounds of St Cecilia's: Dominika Maszczynska | 16 August 2023 | 15:00 | £12 / £10 / £5 | Tickets available through Edinburgh Fringe
Harpsichordist Dominika Maszczynska presents poetic and virtuosic pieces on the original 1755 double-manual harpsichord by Luigi Baillon. The programme will include well-known, illustrative masterpieces of French Baroque music such as La Poule by Jean-Philippe Rameau, Le Vertigo by Panrace Royer and Les Barricades Mystérieuses by François Couperin, alongside Jean-Baptiste Forqueray's harpsichord transcriptions of his father's compositions for viol and continuo, as well as two pieces by the German empfindsamer Stil exponent and Johann Sebastian Bach's son Carl Philipp Emanuel. Supported by The Keyboard Trust.
Sounds of St Cecilia's: Spinacino Consort | 19 August 2023 | 15:00 | £12 / £10 / £5 | Tickets available through Edinburgh Fringe
The Spinacino Consort presents a concert of the finest music from Renaissance Italy, exploring the influence of Isabella d'Este, 'La Prima Donna del Mondo'. Born in Ferrara to the d'Este dynasty, Isabella enjoyed music lessons from some of the finest Franco-Flemish composers. However, it was her passion for the native Italian forms of sung improvised poetry that led to her patronage of Italian artists and the development of frottola. This musical melting pot created some of the most exciting and beautiful music ever composed.
Edinburgh Renaissance Band's Viol Rackett Show | 20 August 2023 | 15:00 | £10 | Tickets available through Edinburgh Fringe
The Edinburgh Renaissance Band is back for 2023 with a fresh programme of their ever-popular Viol Rackett Show, the much-loved programme of instrumental music, from the Middle Ages to the Renaissance. The award-winning troupe of ten musicians show off a large range of period instruments, including shawms, cornetti, sackbuts, nakers, crumhorns, viols, fiddles, gemshorns, bells, bagpipes, racketts and a serpent, and are happy to chat with you about them. The show is fronted by Musical Director Murray Campbell, whose lively presentation provides a delightful show, suitable for all ages. Children are especially welcome.
Venice without the Stains | 25 August 2023 | 13:00 & 15:00 | £15 | Tickets available through Edinburgh Fringe
Venice, Europe's most depraved city, produced the sublime Vivaldi, the enduring influence of Lully, the extraordinary beauty of Handel's music. Entrancing concert in historic St Cecilia's Hall. Elspeth McVeigh's hauntingly pure voice transports you to the royal court of 17th/18th-century France, the opera houses Venice and London. Expertly and sensitively accompanied by Tiffany Vong, on Barton 1709 harpsichord from museum.
Museum Socials
Our Social Programme creates a friendly environment where everyone is welcome and all contributions are valued. Sessions start with tea and cake, and feature a range of activities inspired by our collections, building confidence, inspiring creativity and having fun. They are suitable for those who might be regular visitors, those who have always loved visiting, as well as those who have never come to our museum before. Sessions run from 10:30-12:00.
Family Programme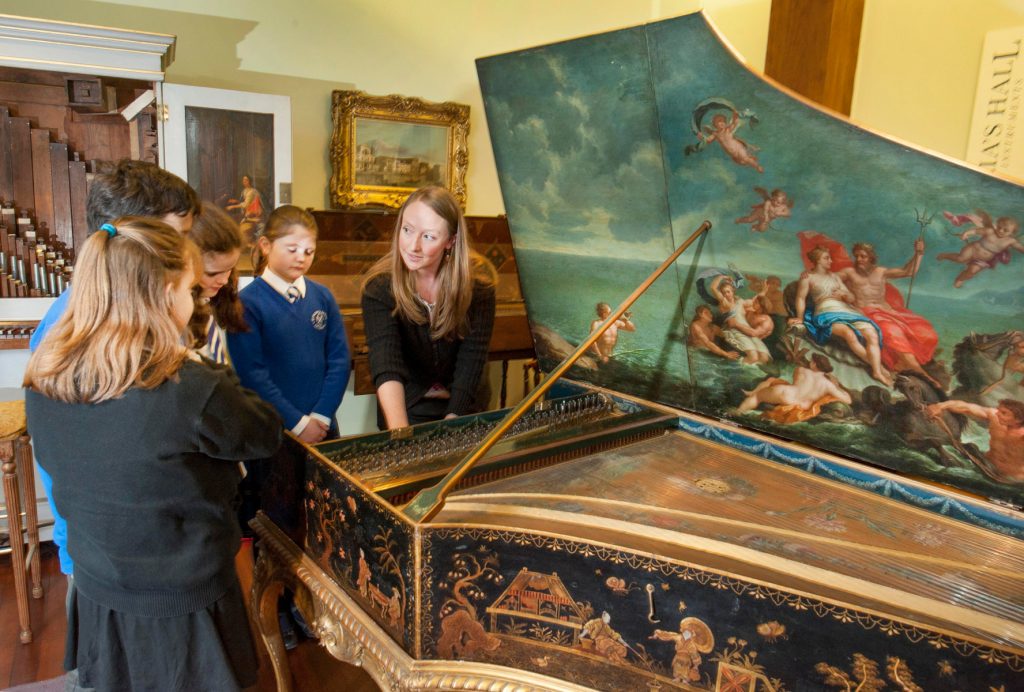 Families and children of all ages are always welcome at St Cecilia's Hall. Come and have fun together while learning about the history of musical instruments.
Our children's tour can help introduce the instruments to young children while our hands-on interactive 'discover drawers' allow visitors both young and old the opportunity to uncover how instruments work.
Children can explore the museum with our Discovery Trail – ask for it at the front desk when you arrive!.
We run a wide range of practical, hands-on workshops, led by musical instrument specialists throughout the year. Look at the Upcoming Events section below to see when the next activity is taking place or contact SCHevents@ed.ac.uk for more information.
In addition, tours or other activities can be arranged to cater for special interests and a varied needs. Please contact SCHgroupvisits@ed.ac.uk for more information.
Venue Hire
St Cecilia's Hall, located off the iconic Royal Mile in Edinburgh's Old Town provides contemporary facilities and comfort, within the stunning 1763 heritage building, uniquely home to a world class collection of musical instruments.
We welcome bookings for events that support the museum's core purpose as a concert hall for live music, and museum of music and musical instruments.
We have two separate spaces available for hire to suit a range of events / activities and budgets:
The Sypert Concert Room (first floor) – max capacity 180 (this number includes all staffing/performers/speakers etc).
The Laigh Hall* (ground floor) – for receptions/refreshments max capacity 80.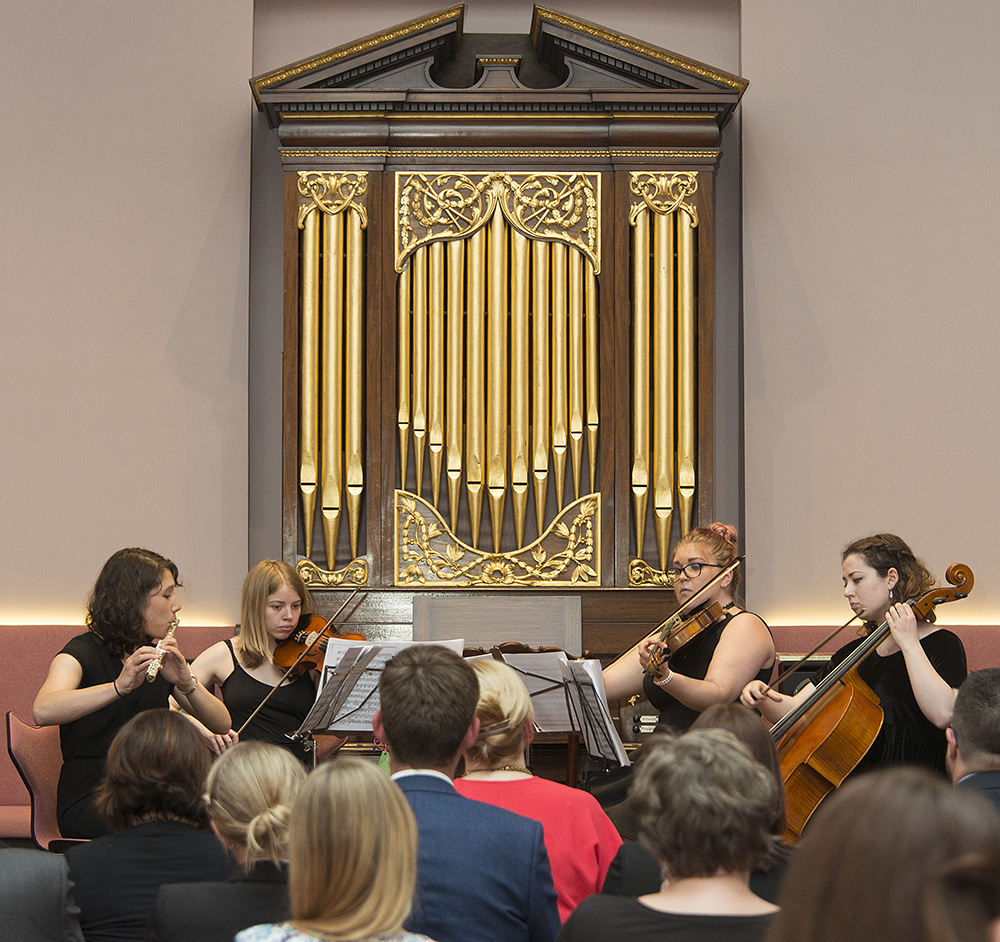 * Note that the Laigh Hall itself is divided in 2 by a glass wall creating 2 spaces, both these spaces comprise the Laigh Hall.
Please note absolutely no catering is permitted in the Sypert Concert Room however refreshments can be served in the ground floor Laigh Hall and Historic Foyer. Catering must be arranged separately by the client as St Cecilia's does not provide this service.
If you would like to enquire about venue hire at St. Cecilia's full details and prices are available here or email us for more details: SCHEvents@ed.ac.uk