Discover the history of musical instruments and music performance with a visit to St Cecilia's Hall. Located in Edinburgh's Old Town, right off the Royal Mile, St Cecilia's Hall is a 'hidden jewel' in the heart of Edinburgh.
Opening Hours & Location
Opening Hours:
Monday – Closed
Tuesday – 10:00 – 16:30
Wednesday – 10:00 – 16:30
Thursday – 10:00 – 16:30
Friday – 10:00 – 16:30
Saturday – 10:00 – 16:30
Sunday – Closed
Location
St. Cecilia's Music Museum & Concert Hall, 50 Niddry Street, Edinburgh EH1 1LG
Travelling to St. Cecilia's Hall
Public Transport
Bus: St Cecilia's Hall is located just off Edinburgh's Royal Mile and is a short walk from a number of bus stops. You can plan your trip using https://lothianbuses.co.uk/timetables-and-maps/route-maps.
Train: Edinburgh Waverley Train Station is less than a 10 minute walk away. Exit via Market Street and follow the signs to the Royal Mile.
Coaches: You can find coach parking on Regent Road and Johnston Terrace. It costs £4 per hour and operates from 8.30am to 6.30pm, Monday to Saturday.
Driving and parking
Parking: Very limited on street parking is available on the Cowgate. The nearest car park is at the Radisson Blu hotel, entrance on Blackfriars Street and the car park for the Travelodge Edinburgh Central on St Mary's Street. Alternative options include: NCP Car Park Edinburgh St John's Hill and Waverley Station Car Park.
For further information please see how to get here.
Museum Accessibility
St Cecilia's Hall: Concert Room & Music Museum is fully accessible and we welcome visitors with different access requirements.
Physically Impaired access
Wheelchairs & Lift
Mobility scooters and wheelchairs can be accommodated inside provided they are compatible with the lift.
The lift has a weight maximum of 1875kg and can accommodate a maximum of 25 people.
There are stairs up to the first floor galleries and to the Concert Room.
The Binks Gallery, 1812 Gallery and Concert Room have polished wooden floors. There is a stone floor in the lobby and Laigh Hall. The Wolfson Gallery is carpeted.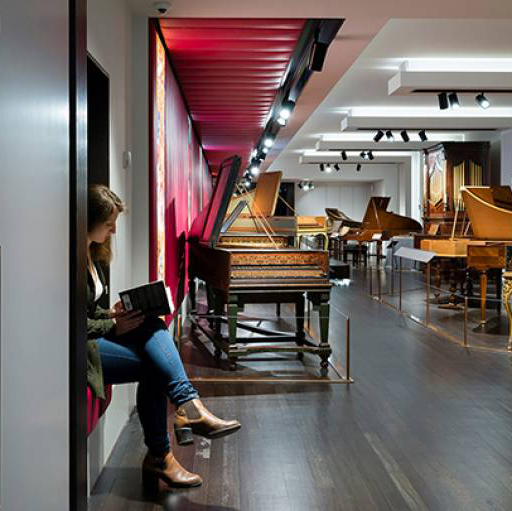 Respite seating
Occasional seating is available throughout the galleries.
Assistance dogs
Assistance dogs are welcome and water is available on request.
Toilets
Accessible toilets are located on the ground floor.
Parking & transport
There is no parking at all at St Cecilia's, call us on 0131 650 2600 for advice on this matter or email StCeciliasHall@ed.ac.uk
Deaf or hard of hearing access
Induction loops: St Cecilia's Hall Reception is equipped with induction loops. Hearing aids should be switched to the T position.
Blind or partially-sighted access
Visual aids: The Visitor Information leaflet and exhibition labels are available in large print.
Guided tours: Verbal description tours run on selected dates throughout the year. Please see the Tours section or email stceciliashall@ed.ac.uk for more information
Visitors on the Autism Spectrum
St Cecilia's Hall Reception and shop can be found on entry to the museum and is a brightly lit environment that can get very busy.
A lot of the décor in the main galleries is wooden, with ceiling spot lights causing patterns and shadow.
Toilet facilities are located on the ground floor. There are loud Dyson Airblade hand driers and fluorescent lighting in the toilets. There is an accessible toilet, which does not have a Dyson Airblade
Website Accessibility Statement
For accessibility information please read our accessibility statement
Tours
St. Cecila's Hall offers a variety of tours including guided tours and virtual walk-throughs
Guided Tours
A variety of guided tours are available at St. Cecilia's Hall including specialised tours for those with audible or visual impairments.

Both large-print visitor information leaflets and verbally described tours are available for visitors with visual impairments. Tours are only available on selected days throughout the year so please enquire at the front desk or email stceciliashall@ed.ac.uk for more information prior to arrival.

There are induction loops available for deaf or hard of hearing visitors at reception. These require hearing aids to be set to the "T" position. Please either enquire at the reception desk or email stceciliashall@ed.ac.uk for more information prior to arrival.
Virtual Tours
Binks Gallery Tour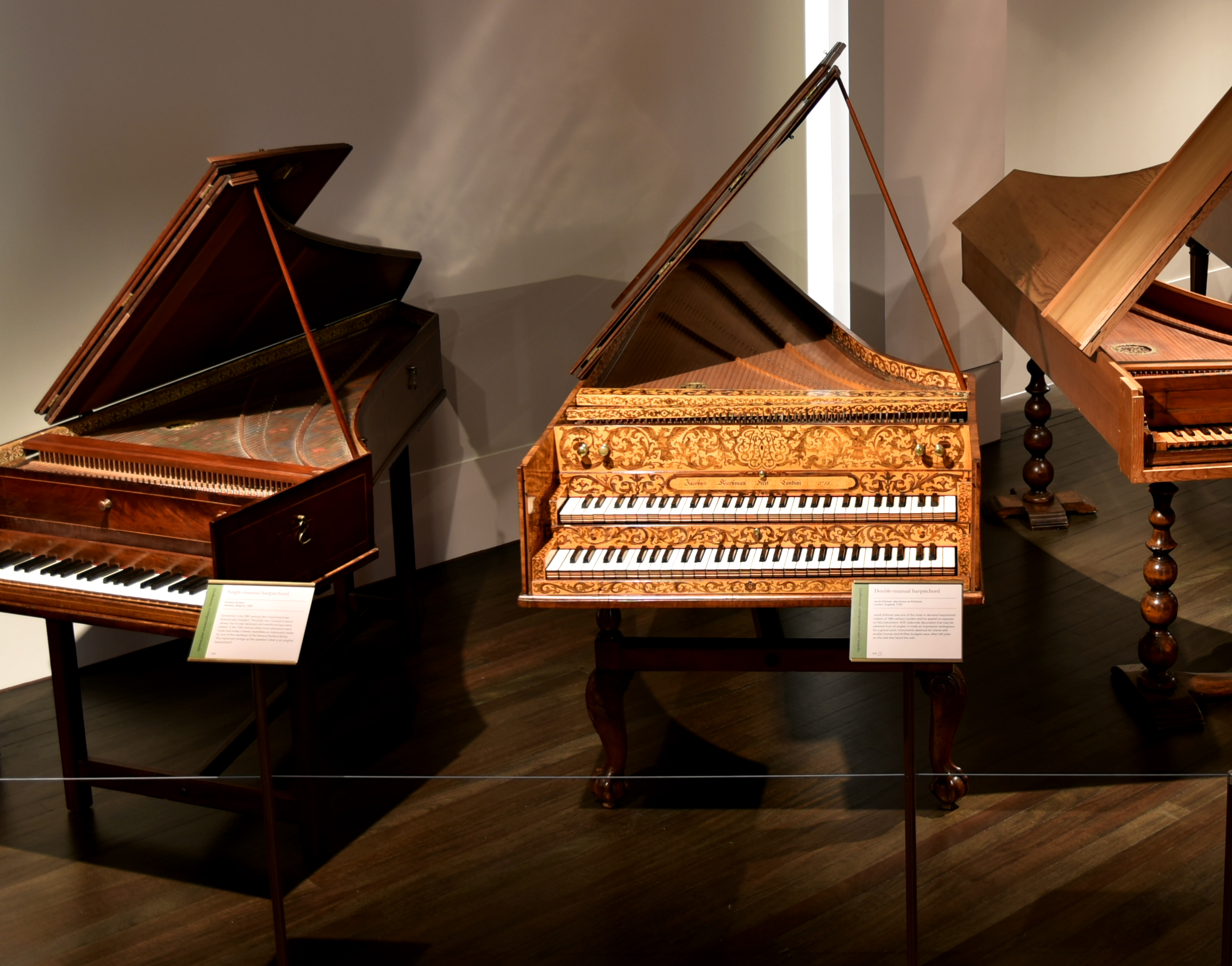 Discover the rich history of keyboard instruments in the Binks Gallery where we lift the lid on the variety of keyboard instruments that have developed over the centuries.
In this tour you will be guided through the many keyboard instrument groups on display here at St. Cecilia's Hall, looking into their design and development, their place and uses throughout history, and get a chance to listen to their unique and diverse sounds.
More Tours Coming Soon…
Learning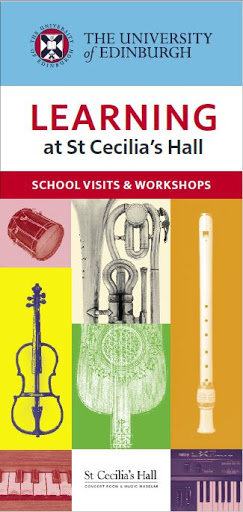 Take a trip around the world or back through time with an educational visit to St Cecilia's Hall. Get hands on with objects from our Learning Collection and hear the sounds of the past, letting musical instruments be an introduction to inspirational learning.
Educational visits and workshops are led by our experienced Learning and Engagement Curator and deliver learning across many different curriculum areas and support teaching and learning across the Curriculum for Excellence. From science to maths, history to art, we can adapt to meet your learning objectives and to link with your topic at school.
Educational visits typically last 60 minutes for primary school pupils and 90 minutes for secondary school pupils.
Cost: School visits and educational workshops are FREE for UK-based schools. Overseas schools groups have a suggested donation £3.00 per person.
How to Book: To book a visit, please contact Museums@ed.ac.uk or call 0131 650 2600 (Monday – Friday, 9:00 – 17:00).
For additional information and resources on school visits please read our list of options for both primary and secondary schools below:
Top tips
Practical information, top things to look out for and making the most of your visit.
Practical information
Toilets and baby-care facilities are available on the ground floor.
St Cecilia's Hall Shop has a number of items priced for the young visitor's pocket money.
Stay in touch
To keep up to date with our programme of family activities, please join our mailing list.
E-mail: stceciliashall@ed.ac.uk